My ancestors - Graphic representation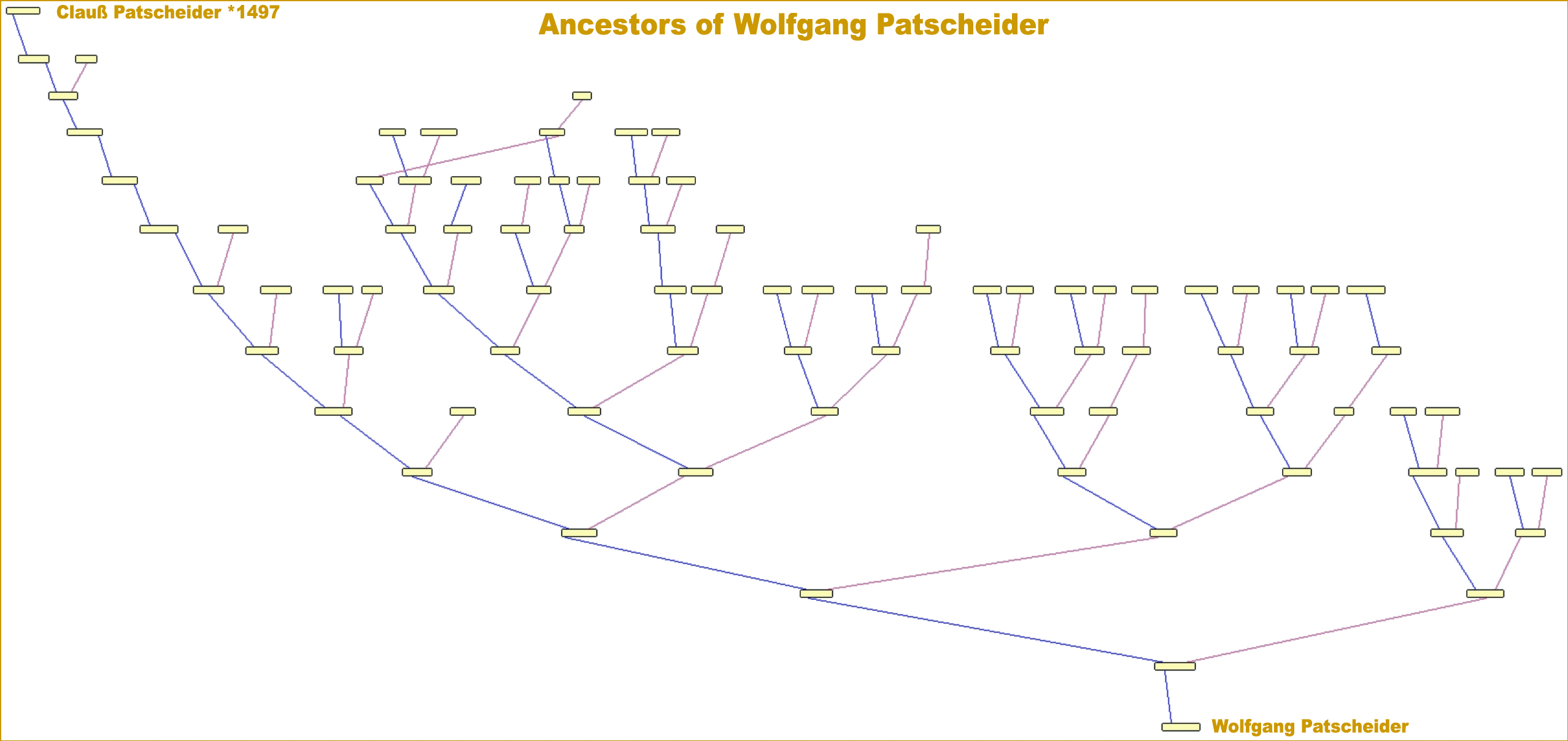 This is simply a rehashed screenshot of how this is represented in my database from Kith&Kin. Each yellow box represents a family. On the bottom right is me with my wife Gertrude. Above me are my parents Irimbert and Ernestine Patscheider. The blue lines always go to the male descents, the pink one to the female ancestry. The blue lines at the left edge go directly to Claus Patscheider and Barbara Wadeller.
My ancestors - Display with listing
Since the representation of the graphic tree structgreate is not yet interactive, I try here a representation by means of a listing, ordered by generations, beginning with my parents.
To facilitate navigation, you will find arrows behind the names with which you can navigate either downwards to the parents, or upwards to the children. If there is no arrow downwards, the known ancestors end with this person.
My parents:
My grandparents:
My greatgrandparents:
My Great-great-grandparents:
Parents of Ferdinand HIESBÖCK b. 1873:
My Great-great-great-grandparents:
Parents of Rosina Maria WAIBL b. 1814:
Parents of Josef SCHUCHTER 1820-1886:
Parents of Maria Magdalena MANGWETH 1823-1886:
Parents of Theresie STARWARZ 1846-1922:
Parents of Markus VORDERWINKLER b. 1851:
Parents of Elisabeth GROßAUER :
My Great-great-great-great-grandparents (4x-great):
Parents of Alois SCHUCHTER b. 1794:
Parents of Aloisia PLANGGER b. 1792:
Parents of Josef MANGWETH b. 1793:
Parents of Therese GREIL b. 1784:
Parents of Marianna KOSTRZYCZAN b. 1789:
Parents of Anton ROSNER 1815-1866:
Parents of Theresia SCHWARZ b. 1813:
Parents of Theresia STARWARZ b. 1823:
My Great-great-great-great-great-grandparents (5x-great):
Parents of Monica SEYFART b. 1742:
Parents of Mathias LECHTHALER b. 1735:
Parents of Elisabeth MAAS b. 1742:
Parents of Josef SCHUCHTER b. 1754:
Parents of Anna Maria PFEIFER b. 1756:
Parents of Josef PLANGGER b. 1755:
Parents of Maria JENEWEIN b. 1757:
Parents of Norbert MANGWETH:
Parents of Katharina MONZ:
Parents of Josef GREIL b. 1761:
Parents of Katharina SCHUCHTER b. 1756:
Parents of Johanes KASTRZICIAN b. 1764:
Parents of Theresia LUZAR b. 1769:
Parents of Karl Franz ROSNER b. 1770:
Parents of Apolonia LUDWIG b. 1772:
Parents of Philipp SCHWARZ b. 1779:
Parents of Theresia BAHSNER b. 1778:
Parents of Ignaz STARWARZ b. 1795:
My Great-great-great-great-great-great-grandparents (6x-great):
Parents of Maria PLAGG 1703-1740:
Parents of Anton SCHUCHTER b. 1715:
Parents of Katharina JENEWEIN:
Parents of Thomas PFEIFFER:
Parents of Marie MONZ b. 1715:
Parents of Simon PLANGGER b. 1707:
Parents of Agnes WACHTER:
My Great-great-great-great-great-great-great-grandparents (7x-great):
Parents of Jakob SCHUCHTER b. 1681:
Parents of Katharina NETZER:
Parents of Mathies JENEWEIN b. 1668:
Parents of Johann MONZ b. 1676:
Parents of Adam PLANGGER b. 1673:
Parents of Maria WESTREICHER:

7x-great-grandfather: Franz WESTREICHER
7x-great-grandmother: Maria JäNN
My Great-great-great-great-great-great-great-great-grandparents (8x-great):
Parents of Mathies NETZER b. 1649:
Parents of M. STILLEBACHER b. 1652:
Parents of Peter MONZ b. 1646:
Parents of Jakob PLANGGER b. 1638:
Parents of Christina JENEWEIN b. 1636 :
My Great-great-great-great-great-great-great-great-great-grandparents (9x-great):
My Great-great-great-great-great-great-great-great-great-grandparents (10x-great):
My Great-great-great-great-great-great-great-great-great-great-grandparents (11x-great):
Character Explanation:
* or b. = born
+ = died
xxxx-xxxx has lived from to year (i.e. year of birth and year of death)
Persons deposited with links lead to further information about these persons..
Link to the parents
Link to the common child
Sources:
"Stammbaum Patscheider 1550-1920" from Josef Wopfner handwriting Nr. 3992 (National Archives Innsbruck)
"Vom Oberrhein zum Etschquellraum" from Dr. Richard Patscheider (1967 Publishing house Robert Lerche, Munich)
Ancestor passport Irimbert Patscheider (in my possession)